In an effort to share with the public the science of wastewater management, Lebanon Utilities is providing a tour of its Wastewater Treatment Facility this Saturday, October 24 from 1 to 3 p.m. The facility is located at 802 Lafayette Avenue in Lebanon.
Staff-guided tours will be on the hour (at 1, 2 and 3 p.m.) and provide a great educational opportunity regarding the inner-workings of the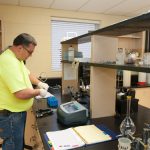 treatment plant. We encourage our area school systems to take advantage of this opportunity to observe "science at work." However, a few things to keep in mind:
• The tour is not handicapped accessible and includes numerous stairs, catwalks, etc.
• The tour is not appropriate for those who cannot walk a long distance or those who are afraid of heights
• The tour is not appropriate for young children; parents bringing children will have sole responsibility for their safety and well-being
• A good portion of the tour will be outside, so dress accordingly!
Participants will need to sign a release. You can download that document here (LEBANON UTILTIES WASTE WATER PLANT TOUR RELEASE), though copies will be made available at the Wastewater Treatment Facility. An excerpt from the release:
I understand and agree that Lebanon Utilities has no liability for my personal medical expenses and/or medical care. I certify that I am in good health and physical condition and do not have any physical disability, medical condition or other limiting factor that would create a hazardous situation for myself or others. Further, I understand that certain risks are inherent in the activities to be undertaken by me including possible contact with exposure to biohazards, corrosive chemicals, stairs, narrow walk ways as well as other unknown or unanticipated risks may occur and I accept full responsibility for such specified inherent risks and those not specifically identified.  This includes but is not limited to exposure to biohazards, corrosive chemicals, heights, hazardous conditions.

Hard hats are provided and must be worn at all times.  Sturdy closed toe shoes, socks and long pants are required for both your safety and comfort. No flip-flops, sandals, open toe shoes or shorts are permitted.  Persons with open wounds, conditions causing immunosuppression or related health matters should not participate.  Food, drinks and smoking are prohibited.
For more information, contact the Wastewater Operations Utility Service Center at 765.482.8843.
About Lebanon Utilities
As a locally owned and operated utility company, Lebanon Utilities is committed to its community's safety and wellbeing. Sensitive to the environment in which we live, Lebanon Utilities is focused on providing the most reliable, cost-effective and responsive services possible in an eco-friendly manner. Lebanon Utilities provides electric, water/wastewater and storm management services as well as high-speed Internet through its iLines division. For more information, visit our website, www.lebanon-utilities.com or call us at (765) 482-5100.