Safety is an important core value at Lebanon Utilities. It's woven throughout all we do, day in and day out. We're committed to a culture of safety among our employees, contractors and suppliers, and we extend that same vision for safety to our community.
As part of our safety commitment, we train our employees to perform a 360 vehicle walk-around each and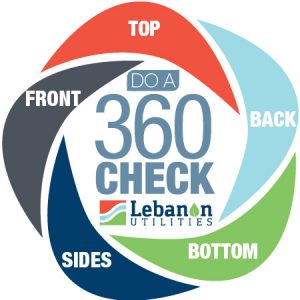 every time they get into the vehicle. In the next few weeks, each of our 40 vehicles proudly displays a 360 walk-around decal as a friendly reminder. Many of our staff have taken a decal or two home for their own vehicles as well. Safety may start at work, but carrying it home to our families is smart.
Interested in learning more about performing your own 360 vehicle walk-around? Check out our 12 tips for a thorough pre-drive vehicle inspection.
• Is there any visible damage or excessive wear to the tires? Are they inflated to the proper operating pressure?
• Are there any low to the ground obstructions, such as walls, fire hydrants, landscaping, rocks, bikes, toys or other fixed objects? This is especially important in the winter month, when objects may be covered by ice or snow.
• Make sure there are no persons behind or beneath the vehicle, especially small children.
• Double check that any loaded material or equipment is secure and that there is no risk falling or striking another vehicle when in motion. Are all storage compartments closed?
• Check that all headlights, tail lights and brake lights are in working condition.
• Is front, side and rear glass clean with good visibility? Is windshield washer fluid full? Are wipers functioning? Are mirrors are clean?
• Look for any fluid leaks and follow owner's manual for routine checks on fluid levels.
• Is the dash and floorboard clear of objects that could block vision or obstruct driving?
• Are seatbelts function properly?
• Scan gages and dash for warning lights.
• Check that the fuel level is satisfactory.
• Make sure the engine starts and runs without excessive vibration or noise.
360 vehicle walk-arounds, not just a decal. There's a big reason to do a 360 vehicle walk-around each and every trip. It's simple, and it definitely matters. By taking a moment to actively think about safety and preform your 360 vehicle walk-around, you can save lives and prevent damage caused by driver negligence.
The above list was developed as helpful guide for 360 vehicle walk-around inspections. It is not meant to be a complete source. No guarantee is made as to vehicle safety. Advice about specific vehicle situations should be sought from a professional.