Lebanon Utilities announced today the hiring of Mr. Jay McCoskey of Fishers, Indiana as its new general manager and CEO. McCoskey begins his duties on Monday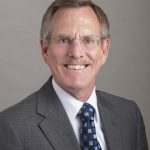 October 14th.  He replaces Mike Martin who will retire at the end of the year. During this transition period McCoskey and Martin will work closely to ensure a smooth transition for the company.
"I'm very excited to work with the City of Lebanon and the utility's board and employees with an attitude and philosophy of 'neighbors serving neighbors.' Martin and the utility's team are to be congratulated for having done an outstanding job of preparing the Lebanon Utilities for the future," said McCoskey.
McCoskey earned his Bachelor of Science degree in marketing from Indiana State University and has participated in extensive leadership training series and academies.
McCoskey comes to Lebanon Utilities with nearly a quarter a century of management experience including serving as North Central Manager/District Manager for PSI and Cinergy, Customer Service Manager for Indianapolis Power and Light, Chairman of the Supervisory Board and Chief Commercial Officer for a utility in the Ukraine, Customer Service Process Manager for Austin Energy,  Director of Customer Service for the District of Columbia Water and Sewer Authority, and most recently Director of Customer Service Operations for Jamaica Public Service Company in Kingston, Jamaica.
McCoskey's community credentials include service on the Noblesville City Council, Hamilton County Progress Committee, St. Vincent's Carmel Hospital Advisory Board, Noblesville Chamber of Commerce, and various other community activities.
Jay and his wife Chris-Ann will be relocating to Lebanon in the near future.   Jay has two adult children, a daughter and a son.
McCoskey's focus in his various positions has been on customer service.  According to Dan Lamar, Chairman of the Lebanon Utilities Service Board, "The board is very pleased that we were able to land a manager with the extensive background that Jay possesses, especially his experience in and passion for customer service."
Mike Martin, outgoing General Manager/CEO, in sharing his thoughts said, "I am quite excited to have an individual with Jay's talents succeed me as we continue our pursuit of excellence in providing utility services to the Lebanon community."