(Lebanon, Ind. – June 23. 2014) Lebanon Utilities is nearing completion of the first phase of a $13 million project that will substantially increase reliability in its electric services as well as allow for future growth in the City of Lebanon.
According to Project Manager Mike Whitman, the first phase of the project entailed upgrading the west substation to appropriate and necessary electrical output for the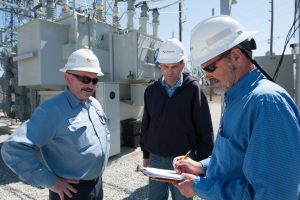 city, converting from 4kv to 12kv for improved capacity and reliability.  In addition, new transformers, circuit breakers and switch gear were put in place. Two other substations will undergo similar updates as well as adding 69kv transmission line to provide Lebanon with two transmission line sources to further improve reliability. In addition, two new substations and an operations facility will be completed during the project which is scheduled for completion in May, 2016.
"We are pleased with the cooperation we have received from residents of Lebanon, as we have had controlled outages from time to time to complete this work," said Whitman. "We are happy to undertake this project that will allow us to provide safe, environmentally friendly and reliable utility services to our customers."