Indiana Municipal Power Agency (IMPA) chooses Lebanon Utilities to pilot its "Green Power" initiative.
As a result of Lebanon Utilities' recent efforts to embrace a sustainable, eco-friendly utility delivery to its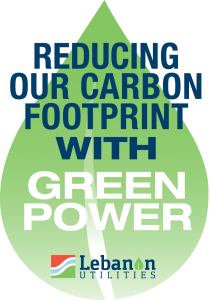 community, the Indiana Municipal Power Agency (IMPA) has chosen Lebanon Utilities to pilot its "Green Power" initiative. After several months of planning, the first Green Power option for customers of municipal power companies is now available to both residential and commercial customers in Lebanon.
Under the Green Power program, Lebanon Utilities' customers will have the opportunity to pay an extra penny per kilowatt hour (kWh) of electric usage for electricity generated from renewable sources of power including solar, wind and hydro, instead of coal. Customers can elect to have 25, 50, 75 or 100 percent of its power to come from green sources. For the average residential customer, opting in at 100 percent would amount to $10 each month.
According to Lebanon Utilities General Manager Jay McCoskey, paying a little extra is a relatively small price to pay to reduce our carbon foot print. "When we produce electricity from coal, it emits large amounts of carbon dioxide that create air pollutants. These emissions have significant negative effects on the health of individuals as well as the climate, not to mention the environmental damage incurred from coal mining itself."
In general terms, every 1000 kilowatt hours of electricity used – the monthly average for a Lebanon Utilities residential customer – emits 2000 pounds of carbon dioxide emissions. That would fill 2000 30-inch exercise balls!
The Green Power initiative is the most recent step by Lebanon Utilities toward environmental responsibility. During the last year, the utility has introduced paperless billing, installed solar-powered street lights, purchased a solar powered charging station for use at community events and championed an educational "reduce, reuse, recycle" campaign. To date, the City of Lebanon's Municipal Building as well as all Lebanon Utilities board members have opted into the program at 100 percent.