Good News! The work on the Lafayette Avenue project is going well, and the contractor is estimating they are a few days ahead of schedule. So, to keep the project moving and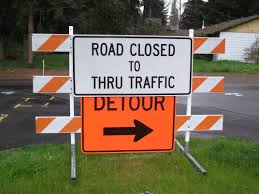 hopefully stay ahead of any severe changes in the weather, we are accelerating the road closure schedule.
Closure Two of the three scheduled will begin on Thursday, October 15, 2015 instead October 19 as previously announced.
Lafayette Avenue will be closed from the north side of the Patterson Street/Chicago Street intersection to south of the Hoy Avenue intersection. The intersection of Patterson Street/Chicago Street will be open as will Lafayette Avenue to the south.
Lafayette Avenue will be closed to thru traffic however residents will be allowed access to their property through the construction zone. We ask that residents use caution in this area as it is a construction zone with heavy equipment and open road surfaces. Thru traffic please observe the posted detour routes.
If anyone has questions on the road closures or on the Lafayette Avenue Stormwater Project please contact the Utility Service Center at 482.8843, Monday – Friday, 7 a.m. to 4 p.m.