Lebanon Utilities recently broke ground in preparation for the new Lebanon Utilities power operations building, located at 1300 W. Main Street, Lebanon.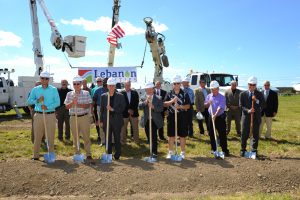 The 18,000 square-foot building will serve as a base of operations for the Lebanon Utilities linemen, their trucks and inventory of poles, meters and other equipment. The new building consolidates six buildings that Jay McCoskey, general manager, calls both antiquated and inefficient.
"Some of these buildings date back to the late 1940s and are downright unsafe," says McCoskey. "This new power operations building will allow us to more efficiently manage our inventory, saving thousands of dollars annually."
In addition, the new facility will be built to reflect Lebanon Utilities' commitment to the environment, using both solar panels on the canopy entrance to generate power for the building and solar exterior lighting. McCoskey predicts these amenities will generate more than enough power to support the building.
The building was part of the 2012 electric bond project that included two substations and an upgrade of electric lines from 4,000 to 12,000 kilowatts – improvements that brought the system into line with its customers' usage needs and improved reliability.